Ellie D
$180 for 1/2 ounce. That's how much Ellie by Ellie D parfum costs. And that's why I haven't bothered sampling it until now. It seems, however, that I have begun to corrupt my dear mother and bring her over to the dark perfumista underworld. She read a newspaper article about Jessica Dunne, founder of Ellie D fragrances, and went a-sampling. She then sent her samples on to moi. So now I find myself with a smidge of Ellie on my arm and on first sniff I am smitten. Ellie explodes with youthful verdancy in the top notes, with bright bergamot and tangerine playing up the lush floral cyclamen, lily of the valley, jasmine and gardenia that go along with them. Underlaying it all are sappy, fruity green fig leaves that give our dewy flowers and fruits and extra oomph of springtime. This delectable combination lasts only a few moments, however. Such exuberance would be hard pressed to live forever. Now then, I won't mince words here: I feel betrayed by Ellie's drydown. Springtime has left the building, and in its place is a powdery rose, an irritating musk, and nondescript vetiver. I feel as though I've gone from riches to rags, from youth to convalescence, in a matter of moments-not really a sensation I would imagine many women enjoying.
I love the top notes so much, that if this scent didn't cost $180 for a miniscule amount, I might actually buy it just for the momentary intoxication-and then scrub it off before it gets bad. If you want to try Ellie, it is available at both http://www.luckyscent.com and http://www.lusciouscargo.com.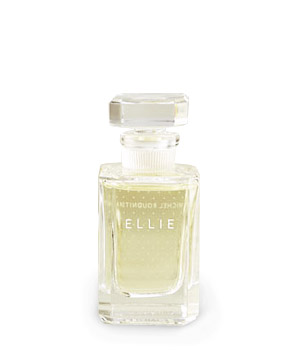 ---
I failed to research Ellie Nuit before sampling it, so given the name I was expecting a fragrance with more lush florals than Ellie-perhaps a jasmine extravaganza. So I was understandably surprised when Ellie Nuit turned out to be a sweet figgy violet, much softer than its predecessor. The fig keeps the violet from becoming candied, as it adds a lovely green, sappy note that endures throughout. The violet's softness reminds me of Caron's Aimez Moi, without the anise of course. Compared to Ellie, this version is remarkably linear. The top notes endure for about an hour, before the light woods in the drydown finally overpower them. I'm not quite sure what cashmere woods are, but am reasonably confident that's what I'm sniffing-if a wood can smell soft and cozy, the drydown of Ellie Nuit does just that. All in all, I'm pleased with the fragrance. It does fade rather quickly for an expensive parfum, however. Moreover, I don't find it unique enough for its price. I think I could probably get a similar effect layering Aimez Moi, or some other sweet violet, with a fig like Molinard Fleur de Figuier. If you are a diehard lover of figs and violet, Ellie Nuit is definitely worth sampling but I wouldn't expect it to rock your world.
page revision: 1, last edited: 19 Oct 2008 01:34