Fifi
I never thought I would like Fifi Chachnil Eau de Parfum…or Eau de Toilette or even Parfum, for that matter. It hits almost every no-no for me in terms of notes that I usually hate…powdery rose-check…tobacco-check…amber-check…lily of the valley..check. The only thing in it that I do seem to like with some degree of frequency is mandarin. And I didn't seek a sample out-I received one serendipitously. Against my better judgment, I tried it, and…
I freakin' love this fragrance. It is so superbly blended that the notes that usually annoy me swirl together in a combination that is so soft and cozy, but at the same time quite a bit flirty. The packaging for Fifi is very apt, as this is definitely a pink, fuzzy, girly fragrance that manages to be all of those things without resorting to the fruity floral, sickeningly sweet combinations that dominate the mainstream market and are supposed to appeal to women who like pink, fuzzy, girly things.
I must have a decant of this. Why a decant? Well, I need to make sure I love it before I buy a bottle…especially when a bottle would be expensive.
The most affordable Fifi option is the 10 ml purse spray for $70. The most extravagant is the 10 ml pure parfum for $155.
You can buy Fifi Chachnil perfume at both Beautyhabit and Luckyscent.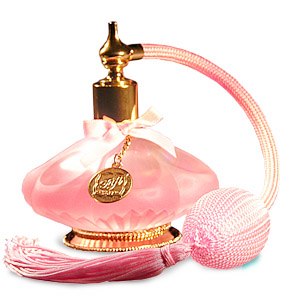 page revision: 0, last edited: 22 Nov 2008 04:03