Montale
Montale is famous for its aoud (agarwood) fragrances, and while some people can't get enough of them, I prefer the non-aouds they have to offer. Call me crazy: I just can't get behind the idea of putting something tarry-smelling in perfume. Musk to Musk is one of those non-aoud Montales in which they sneaked in some aoud anyway. I expected a nice, slightly spicy skin musk when I sampled this. I got a nostril searing kick of pepper, aoud, and musk. I could also swear there's some sort of aquatic note. It is LOUD! And it grows louder as it warms on the skin. The official notes are: white musk, nutmeg, aoud, teak wood, precious woods, grey amber, musk.
I could see this working for a man, or a VERY adventurous woman. But it's not for me. But aren't the Montale bottles so nifty and non-traditional? I want one. I just have to find a Montale I like enough to justify the raging expense ($95 for 50 ml). You can buy most Montale fragrances at http://www.luckyscent.com, which is where I got my sample.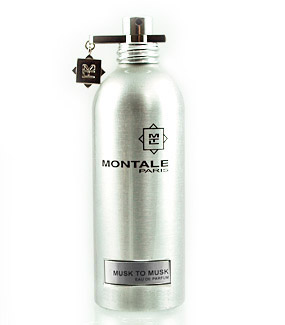 ---
Sunset Flowers has the cutest name, and the most nostalgic sounding combination of notes: Lemon tree blossom, green apples, blue chamomile, violets. Doesn't that just make you think of childhood? I never had lemon trees and am pretty sure I had no idea what chamomile was as a child, but when I read that list for some reason I feel about 6 years old. I wish I liked the way they all smelled together! Sunset Flowers opens with a zesty lemon tang, closely accompanied by the green apple. It's very sweet and sour, and reminds me of a Jolly Rancher. I could also swear there was some lily of the valley in there. Unfortunately, as it dries down it verges more towards sour than I prefer, and it takes on the same sort of scent that aquatic notes gone wrong do on my skin-it grates on my nerves. If I put my nose practically against my wrist, I can smell a hint of the herbal chamomile. At no point do the violets emerge. I wish the floral facet of this scent were more prevalent to balance out the sour fruitiness.
---
A very sweet lady gifted me with a sample of Un Boise Vanille. I'm generally a fan of vanilla spiced up with some dark woods, so I eagerly spritzed it on. I'm very surprised to say that I think this would actually be much better on a man. Despite the name, vanilla is actually not the star player here. Rather, it's a slightly peppery, anise tinged, blend of woods - cedar and patchouli. It would be quite impeccable, if not for the lavender. It's out of place here, I feel, and it lends this warm, sexy number a somewhat medicinal tinge.
---
Montale's Crystal Flowers is one of those rare, delightful fragrances that surprises me despite its list of notes. I really expected not to like this - its notes of roses from the Dades Valley, Italian mandarins, lily of the valley, white musk, ambergris, and Oriental flowers really did not scream "me". But oh, the fragrance is so wonderful. It is a cheerful, girly, powdery concoction of floral notes (the rose is there but not at all prominent) and musk. I adore this! The lily of the valley lends a dewiness without going sharp or sour. The ambergris is subtle and imparts a certain sophistication that I appreciate. screamin' amber ain't my thang. I am somewhat astonished to realize that this might be the first Montale I've sampled which I need to own. Right now!
page revision: 3, last edited: 20 May 2010 02:35