Tocca
Tocca's fragrance bottles are to die for pretty. So I always sample a new Tocca with a kind of breathless anticipation, hoping, hoping, Hoping! that I will like it and be able to justify buying another pretty bottle for my collection. The newest fragrance in the line, Brigitte, is Tocca's take on gourmands. It's been eagerly awaited by many perfumistas because it combines a very "niche" type note-saffron-with a very mainstream foody type note-pannetone. I was lucky enough to sample it before became available for sale (thank you, Luckyscent!). Here is the verdict: it's sweet. Very, VERY sweet. The opening is a nice fruity burst, with caramelized ginger, papaya, and tart rhubarb. The drydown becomes more sugary than fruity, however, and I cannot detect any saffron whatsoever. Nor can I detect any of the floral notes. Admittedly, I had only a very small amount to dab on and some fragrances do smell differently when they're sprayed, but the notes in this that to me were most appealing (iris, saffron, musk) have been completely taken over by what I assume is the pannetone accord.
It stays much closer to the skin than most sweet, fruity fragrances do, so I suppose if I were a fan of this genre, this would be a good one to buy for work or any occasion where I didn't want a lot of sillage. It retails for $68 and in mid-September will be available at http://www.luckyscent.com and http://www.beautyhabit.com for sale, among other places that sell Tocca. The official notes are: papaya, ginger, rhubarb, Moroccan rose, iris, saffron, sandalwood, musk, Pannetone accord.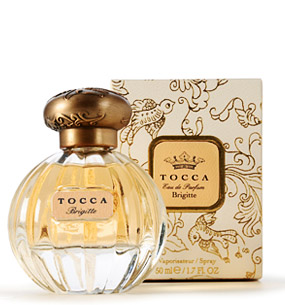 ---
Unless Brigitte, Tocca's previous release, their new fragrance Giulietta is not a sweet gourmand. In fact, I'd say they went in the opposite direction, because Giulietta is clean and tangy in the top notes, and softly floral in the drydown. Giulietta opens with a curious but refreshing melange of green apple, lilac, and musk. It is quite summery. Soon into the drydown, however, a beautiful floral blend emerges. There is a hint of rose, plenty of vanilla orchid, some heliotrope and lily of the valley. It's wonderfully subdued, very feminine, and manages to retain the clean feeling in the top notes but also introduce a soft, coziness. I've sampled all of the Tocca fragrances and long lusted after a bottle, but none of the scents really did it for me enough to invest in one. I've finally found my bottle-worthy Tocca fragrance and I'm going to buy it from Lucky Scent. See if I don't.
page revision: 1, last edited: 06 May 2009 22:00